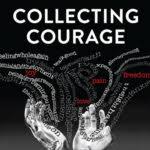 "Power without love is reckless and abusive, and love without power is sentimental and anemic. Power at its best is love implementing the demands of justice, and justice at its best is love correcting everything that stands against love."  ~ Martin Luther King Jr.
Collecting Courage: Joy, Pain, Freedom, Love is a perfect example of what happens when two parallel paths converge to create something special and of significance.
On one pathway was Our Right to Heal, an initiative featuring the voices of ten Black Canadian fundraisers sharing their journey towards healing from painful and traumatic experiences. In May 2020, a few days before George Floyd was killed at the hands of the Minneapolis police on May 25th, the stories were published by the Association of Fundraising Professionals (Global). His death served as a flashpoint triggering worldwide outrage about police brutality against Black people and igniting protests against anti-Black racism.
On a related and separate path, our group of Black Canadian fundraisers selected Cap in Hand: How Charities are Failing the People of Canada and the World by Gail Picco as our book club selection for December 2019. When Gail joined us for the discussion, she shared her idea about a compilation of writings featuring the voices of Black fundraisers. In March 2020, Gail became the Editor-in-Chief of The Charity Report, a new digital magazine, and at the same time launched Gail K. Picco Books, an imprint under Civil Sector Press.
These two convergent paths intersected, creating a perfect storm and genesis for the book. Conditions and timing were right to address historic exclusion and oppression in the charity sector. In June, discussions got underway and Collecting Courage: Joy, Pain, Freedom, Love was born.
The book represents the beginning of a process to systematically catalogue and archive our truths, so our voices are the ones that shape the narrative about our experiences. For those who can relate to the stories shared in the book, we hope they give you the courage to lean in and give voice to your truths and experiences. For those committed to being allies and co-conspirators in dismantling barriers and championing a sector culture of belonging and reciprocity, we hope the book illuminates a path to action.
Though the experiences shared are varied, they branch from a common spine that have borne the weight of generations of injustice and sustained attempts to erase truth by constructing and intentionally pushing false narratives. Our collective truths are held together by a common thread and courageously unveiled through the powerful words written by each of the fifteen authors. Below are selected quotes one taken from each contribution.
"I am embracing and deepening my understanding of joy. How colonial institutions, underpinned by Christianity, have enslaved and denied equity of opportunity to primarily Black and Indigenous people – purveyors of promised joy."
˜ Marva Wisdom, M.A.
"I am a fundraiser who did not want to acknowledge that my Blackness shaped my experiences…..I got used to being the only Black person in the room and convinced myself that I was lucky to be there, that I was fortunate and I should rise to the occasion. I smiled. I told myself, I'm here, this is an opportunity, this is a moment to take advantage. Taking advantage, however, meant denying myself. I became someone who could melt into the walls at any moment. Assimilation became one of my greatest strengths."
˜ Sherrie James, CFRE
"I ran to my Points of Pride box that harbored all my awards. One for outstanding leadership from the United Negro College Fund; a Certificate of Appreciation from the American Society for Public Administrators; a Certificate of Completion from Atlanta's United Way V.I.P. program; and certificates in Nonprofit Leadership, Nonprofit Management , and Nonprofit Social Media. I read multiple notes I kept from donors, alumni, college presidents, and volunteers, thanking me for caring about their passions and interests. I looked at evaluations from courses I taught, reminding me that I had done well. The box was full of accolades. I needed those affirmations"
˜ Christal M. Cherry, M.A.
"Cause as surely as it hurts 'Others' it's bamboozled self-anointed 'Belongers' planting seeds of hatred sprouting white superiority instead of seeds of equity and our shared humanity."
˜ Nicole Salmon
"As a Black Canadian fundraiser, most of my professional experiences have involved learning to survive in white spaces by adopting and succumbing to the pressure to conform. In these spaces, I am on guard. My Blackness is always on display in the white ocean that surrounds me. I am often the only Black fundraiser and the only person of colour on staff."
˜ Muthoni Kariuki, MNPL, CFRE
"It didn't matter that I was working 70-80 hours a week prior to falling ill. It didn't matter that I hadn't taken a sick day in eight months even when I should have, nor did it matter that it was my right to do so.  The fact that I was a C-suite team member carried little weight. But when I came back to the office, I spoke up, and the gaslighting began. Pehaps, it was all in my head and I was making it up, imagining the reassignment and mistreatment. Then, the actions became more blatant. I found comments unacknowledged in meetings, having some of my team go around me to get the green light on work-streams I previously said no to, and being the last to know when special events were happening. I saw that the grace extended to others – other white men and women I worked with – was rarely extended to me."
˜ Kishshana Palmer, CFRE
"As a Black male, despite my great accomplishments, I literally appear as the antithesis of the nonprofit leadership ideal. That's a pain point. No matter how hard one tries, no matter how hard one strives to achieve excellence, no matter how much one accomplishes, and no matter how well one follows the code, one simply will never be the ideal or feel a real sense of belonging."
˜ Mide Akerewusi, CSR-P, CDEP
"At various points along my journey to finding my voice, I was crippled by the fear of the unknown. But fear is the enemy of freedom. One has to be brave to break the chains of fear and grasp freedom for themselves. It is not something that anyone else can do for you. To obtain freedom you must act decisively and courageously, and then use your voice to empower, motivate and safeguard the path that will make freedom more attainable for the next generation. We simply cannot rest. There is much work to be done."
˜ Niambi Martin-John
"Charitable organizations play an important role in society and as such they should reflect their community. I believe we all have a role to play in giving back and making the world a better place. Important in this process is a more accurate picture of the philanthropic sector. One that reveals Black philanthropists and Black fundraisers. One that does not cast Black and brown people as only beneficiaries of charity. Diversity, equity, and inclusion work ensures the stories of Black people are shared and used to inform the systems we live and work in."
˜ Heba Mahmoud, MBA
"I also received feedback a few times that I was too educated, and I should exclude my doctoral degree from my resume.  I was advised to focus on more junior positions to get my foot in the door somewhere, and then build up my career.  Well, omitting my degree was definitely not an option. In fact, I considered that suggestion offensive, and wondered if that was a recommendation made regularly to white immigrants (unlikely!)."
˜ Camila Pereira, PhD
"I will continue on this journey of healing and love through philanthropy. I will continue to create spaces where we all feel that we belong, where our opinions matter, where philanthropy is used as a tool for liberation and where we have equal access."
˜ Fatou Jammeh
"And I don't just love raising money but going a bit deeper, I love people. And what is the definition of philanthropy? "The love of humankind."
˜ Birgit Smith Burton
"As we witness a reckoning with the cumulative impacts of slavery, Jim Crow, and modern-day discrimination, we are also witnessing reckoning of immense proportions with the origin story of modern American philanthropy as the child of capitalism."
˜ Naimah Bilal, CFRE
"When you genuinely care for someone, it is never about you. It is always about the subject of your love. In my household, love was full and plentiful, but it wasn't always easy, and it didn't always feel good. Love is caring and expressions of affection. But it is also about hard truths, accountability, boundaries, challenges, stretching and growing."
˜ Nneka Allen, CFRE
"At the end of the day, I do a roll call to ensure all my fragments are accounted for and none have been left behind.
A comrade asks: "Who would you be in a world without oppression?"
I answer: Whole."
˜ Nicole E. Cozier
Visit collectingcourage.org to learn more about the book Collecting Courage: Joy Pain Freedom Love and its fifteen contributors 
This piece was co-authored by the book's editors Nneka Allen, Camila Pereira, and Nicole Salmon. 
Nneka Allen is a Black woman, a descendant of the Underground Railroad, an Ojibwa of Anderson Nation, a Momma and a sixth generation Canadian. Born in the 70's, Nneka was raised during a time of Black power and acute political awareness in North America.
As a lover of justice, Nneka has inspired philanthropy as a Fundraising Executive in the charitable sector for the last 20 years.
Nneka is also the principal and founder of The Empathy Agency. She helps organizations deliver more fairly on their mission and vision by coaching leaders and their teams to explore the impact identity has on organizational culture and equity outcomes.
Nneka's ultimate joy is her daughter Destiny, an Environmental Scientist working with Indigenous communities in British Columbia. Together Destiny and Nneka continue their family legacy of philanthropic activism in Canada.
Born and raised in Brazil, Camila Pereira comes from a very mixed family including Black, Spanish, Italian, Portuguese and Native Indian. She understood from a very young age that race relations, identity and gender roles were central not only to her family but to herself and that skin color in Brazil dictates your role, future and existence within society.
Since childhood Camila has been involved in philanthropy through her family's community initiatives. Her career in the nonprofit sector is a means to contribute towards the eradication of all forms of prejudice preventing the advancement and betterment of humankind; she is a fundraising professional in Toronto and a coach to Brazilians involved in philanthropy and fundraising in Brazil and Canada. Camila holds a PhD in Public Policy/Public Administration & International Relations from Howard University-USA.
Alongside her career, Camila keeps a strong connection with her family in Brazil and loves spending time with her husband – Adrian and cat – Lila and travelling.
Nicole Salmon was shaped by her Jamaican identity and deeply influenced by spending 2/3 of her life in Canada. Nicole is a skilled communicator who embraces her natural curiosity and thirst for variety and new challenges. An avid reader, gardener, sports enthusiast and mentor, Nicole is anchored by family, committed to service, building connections and deepening personal relationships.
Spending over twenty-five years working in the non-profit sector managing a variety of fundraising portfolios, in 2014 Nicole founded Boundless Philanthropy, a fundraising consultancy providing a range of services, including interim leadership, board and leadership development. She is a former Director of Fund Development at Oxfam Canada.
She serves on the Boards of Realize, an organization working to improve the lives of people living with HIV and other episodic conditions, and WellFort Community Health Services. A Book Review Panelist with The Charity Report Literary Hub and an inspired member of a Black Canadian Fundraisers group.