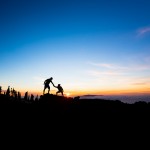 You're a motivated and driven high-achiever. And, you're already an accomplished nonprofit professional. Learning and growth are passions of yours. You enjoy working with people and you're compassionate by nature. Now you manage a team, and you're squeezed between your frontline work and your management responsibilities. You may be asking yourself: "What now?" Executive coaching will help you stay focused on what's essential and important so you can flourish and thrive as a leader.   You will:
Develop more effective interpersonal communication skills
Improve your ability to manage conflict and change
Identify key indicators to increase your leadership effectiveness
Achieve progress toward your personal and professional goals
Resolve challenges to improve performance
Build and maintain healthy relationships
Raise your ability to navigate sensitive political issues
Find your ideal work-life balance
Clarify your core values and increase your self-confidence
We offer customized coaching packages to support you during the various stages of your leadership journey.
Learn more about our six-month Executive Coaching Package.
Learn more about our three-month New Leader Coaching Package.
Learn more about our 7-week Positive Intelligence (PQ) Coaching Package.
The Fundraising Leadership team is also certified to conduct and debrief a variety of leadership assessments, which can offer a starting point to define where you are and where you need to improve as an executive.
What is Executive Coaching?
Executive coaching is a thought-provoking and creative process that inspires you to maximize your personal and professional potential, which is particularly important in today's uncertain and complex nonprofit environment.  We believe every client is naturally creative, resourceful, and whole. The coach's responsibility is to:
Discover, clarify, and align with what you want to achieve
Encourage your self-discovery
Elicit solutions and strategies generated by you
Help hold you responsible and accountable for results you want
This process helps clients dramatically improve their work-life integration while improving their leadership skills and unlocking their potential.  In a coaching alliance, our coaches:
Provide objective assessments and observations that foster your self-awareness and that of others
Listen closely to fully understand your circumstances
Act as a sounding board to explore possibilities and support intentional planning and decision making
Champion opportunities and potential
Encourage you to stretch commensurate with your personal strengths and aspirations
Foster shifts in thinking that reveal fresh perspectives
Reveal blind spots to illuminate new possibilities and support the creation of alternative scenarios
Maintain professional boundaries in the coaching relationship, including confidentiality, and adhere to the coaching profession's code of ethics

How can I Determine if Executive Coaching is Right for me?
To determine whether you and/or your nonprofit will benefit from coaching, start by summarizing what you would expect to accomplish in coaching.  Once you have a fairly clear idea of the desired outcome, the coaching alliance will support you in achieving that outcome with greater ease.
Since coaching is a partnership between the coach and client, ask yourself whether you value collaboration, other viewpoints, and new perspectives. Also, ask yourself whether you and/or your nonprofit is ready to devote the time and the energy to making real changes. If the answers are yes, then coaching may be a beneficial way for you to grow and develop.  In a coaching alliance, the Client:
Creates the coaching agenda based on personally meaningful goals
Uses self-assessment and observation to enhance awareness of self and others
Envisions personal and/or organizational success
Assumes full responsibility for personal decisions and actions
Utilizes the coaching process to promote possibility thinking and fresh perspectives
Takes courageous action in alignment with personal goals and aspirations
Engages in big-picture thinking and problem-solving
Takes the tools, concepts, models, and principles provided by the coach and engages in effective forward actions
Check out our Executive Coaching Package Here.
Check out our New Leader Coaching Package Here.
Check out our Positive Intelligence (PQ) Coaching Package Here.
How is Coaching Distinct From Other Services?
Executive coaching focuses on setting goals, creating outcomes and managing change. Sometimes it's helpful to understand coaching by distinguishing it from other personal or organizational support professions.
What Kind of Training do the Fundraising Leadership Coaches Have?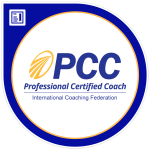 The Executive Coaches at Fundraising Leadership have deep fundraising experience. We also passed through a rigorous training regimen over the period of one year that included five courses, at least 100 hours of verifiable coaching hours, group as well as individual supervised coaching sessions with clients by a Master Certified Coach, and concluded with both written and oral examinations.  All of our coaches are certified through the International Coach Federation (ICF).  You can listen to our Podcast on how we use the ICF Core Competencies to coach leaders in the nonprofit world.
Contact one of our coaches for a Complimentary Coaching Session.
What are Some Reasons I Would Work with a Coach?
You might choose to work with a coach for many reasons, including but not limited to the following:
Something urgent, compelling or exciting is at stake (a challenge, stretch goal, or opportunity)
A gap exists in knowledge, skills, or confidence
Change is afoot in your workplace or life
A desire to accelerate results
Communications breakdowns at work or home
A lack of clarity with choices to be made
Success has started to become problematic
Work and life are out of balance, creating unwanted consequences
Core strengths need to be identified, along with how best to leverage them
You're feeling stuck, overwhelmed, or burned-out
If you are an experienced leader who wants to increase your impact, then our 6-month coaching package may work for you.
If you are a new leader (or, new to your role), then our 3-month coaching package may be your best choice.
If you are a leader who wants to reduce self-limiting behaviors and tap into your best self, then our 7-week Positive Intelligence (PQ) Coaching package may most suitable.
How Does a Coaching Alliance Work?
In a coaching alliance, the Sponsor is the entity (typically the employer) that may pay and/or arrange for coaching services to be provided, and the Client (you) is the person being coached.  Our approach as Coaches to personal and professional development is about you as a whole person. The Coach, Sponsor, and Client work together to design a plan that is tailored specifically for you. Some of the techniques we use include: values clarification, visioning, brainstorming, identifying goals and action plans, making empowering requests, challenges, and inquiries.
Coaching sessions are typically accomplished by telephone or video. What we find works best in a coaching alliance is two, 45-minute sessions per month over the course of a six month period. In between sessions, Clients will typically have homework that supports their learning and growth. Homework may include reading and/or listening to books, as well as other empowering activities. Fundraising Leadership coaches are available by email and telephone for support between coaching sessions.  An initial six-month alliance is recommended for you to realize significant and sustained progress.
We have a 6-month Executive Coaching Package to take you to the next level.
We have a 3-month New Leader Coaching Package to get you started.
We also have a 7-week Positive Intelligence (PQ) Coaching Package to strengthen your mental fitness.
How Do I Ensure Compatibility with a Fundraising Leadership Coach?
Overall, you should be prepared to consciously design the coaching alliance with your coach.  Here are a few other tips:
Interview the coach to determine "what feels right" in terms of the chemistry. Coaches are accustomed to being interviewed, and an introductory conversation of this type is free of charge
Look for stylistic similarities and differences between the coach and you and how these might support your growth as an individual
Discuss your goals for coaching within the context of the coach's specialty or the coach's preferred way of working with an individual or team
Talk with the coach about what to do if you ever feel things are not going well; establish some agreements upfront on how to handle questions or problems
Remember that coaching is a partnership, so speak with your coach about what's working (or not)
See our Fundraising Leadership Coaches.
What Does it Take for the Coaching Alliance to be Successful?
Working with an executive coach requires both a personal commitment of time and energy as well as a financial commitment. The fees charged by Fundraising Leadership Coaches vary by region, length of the assignment, and whether the organization (or individual) is paying. Individuals should consider both the desired benefits as well as the anticipated length of time to be spent in coaching.  To be successful, executive coaching asks certain things of you, including:
Observing your behaviors and communications with others
Listening to your intuition, assumptions, and judgments
Challenging your existing attitudes, beliefs, and behaviors, and developing new ones that serve your goals in a better way
Leveraging your personal strengths and overcoming your limitations to develop a winning style
Taking decisive actions, in spite of your discomfort and personal insecurities, in order to reach for extraordinary results
Showing compassion for yourself and others while learning new behaviors and experiencing setbacks
Committing to not take one's self so seriously, and using humor to lighten and brighten any situation
Summoning the courage to reach for more than before while engaging in continual self-examination