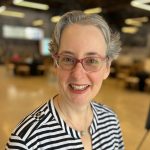 Janice Cunning (she/her) is an experienced fundraising consultant, researcher, and certified professional Co-Active coach (CPCC, PCC) who specializes in nonprofit leadership development. As a coach, Janice is passionate about partnering with nonprofit leaders to help them create an inspired vision that transforms lives. In addition to her coaching work, Janice loves working with teams and facilitates a number of online courses and onsite workshops.
Janice combines her coaching skills with 17 years of experience in the nonprofit sector. She was previously a Senior Consultant at KCI, Canada's largest fundraising consulting firm. In this role, Janice provided coaching to leading university prospect research departments with a focus on strategic planning, teamwork, and communication. Within the firm, she led strategic planning retreats and monthly meetings that focused on innovation and continuous improvement to client services.
Clients appreciate how Janice helps them identify their values and make choices that align with what is most important to them. She provides a practical approach and specific tips and techniques that make them better leaders. Clients describe her as warm and caring and as someone who gently challenges them. As a coach, Janice most enjoys working with clients to:
increase awareness about their personal values and strengths
focus on leading rather than managing
undertake work that has the highest impact on their organization's mission
empower their teams through delegation and prioritization
choose the right work/life balance that energizes them
Janice has coached or trained senior leaders and teams at nonprofit organizations across North America, including University of Toronto, Toronto Symphony Orchestra, Toronto General and Western Hospital Foundation, Soulpepper Theatre Company, YMCA of Greater Toronto, YWCA Toronto, United Way Greater Toronto, War Child Canada, Camp Oochigeas, Rutgers University, Bucknell University, George Washington University, Oklahoma State University Foundation, University of Southern California, University of Florida, Occidental College, and University of Rochester.
Janice earned a BA in History from Trent University and a Master of Library Science from the University of Toronto. In addition to her coaching certification, Janice is a graduate of CTI's 10-month Leadership program. She is also trained in Organization and Relationship Systems Coaching.
An active volunteer, Janice was a founding director of Apra Canada and the second international member to serve on the international Apra board. Previously Janice served the coaching community as Vice President and Secretary for the International Coach Federation – Toronto Chapter. Most recently she acted as a mentor for participants in CTI's Leadership Program.
Janice lives in Toronto with her husband Manish and their rescue dog Qui Qui. She loves to read and talk about books, especially with her book club.
You can also follow Janice on LinkedIn.