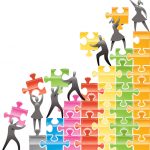 High performing nonprofit teams are built on trust. They have shared values and vision and work to achieve common goals. What sets these teams apart is a commitment to vulnerability, a willingness to engage in conflict around ideas, and a culture of feedback and accountability.  
Fundraising Leadership specializes in helping nonprofit organizations build and sustain extraordinary teams through experiential training offered in a variety of formats including – onsite workshops, online courses, and offsite retreats.
Our areas of focus include:
Building trust and collaboration

Engaging in healthy conflict

Understanding and harnessing a team's unique strengths  

Creating a culture of candor, feedback, integrity, and accountability 

Encouraging your team to set and achieve stretch goals

Being an effective manager

Developing coaching skills for nonprofit leaders and managers

Positive Intelligence (PQ)
Raising More Money by Deepening Relationships with Donors
Each program is customized and designed to take your organization to the next level.
Most nonprofit training is focused on what to do at work. Fundraising Leadership clients appreciate that our nonprofit training creates an opportunity for leaders and teams to reflect on who they are, and how they can work collaboratively to achieve greater success.
Workshops for leadership, team and board development
We offer customizable workshops for fundraising, leadership, team, and board development:
We offer a 7-week positive intelligence (PQ) fitness training program for groups:
We offer three on-demand courses for self-directed learning:
What is Experiential Training and Learning?
When you listen to stories from leaders, their deepest learning experiences come from being a part of hard-won struggles in which they had to fight to succeed or learned from failure.
Developing leaders is a craft, an art form that involves a combination and balance of the right content to meet the right context for the learner. That learner then must be given the opportunity to get in the driver's seat to truly leverage the content and context they were exposed to.
The best nonprofit leader training does just that.  It uses an experiential learning model where participants make discoveries and experiment with knowledge firsthand, instead of hearing or reading information. The purpose of the training is to strengthen each participants' expertise through experience, observation, conceptualization, and experimentation.  The aim is to help each professional stretch into their best self. 
The best training creates a space for participants that is safe AND also purposely designed to confront participants' habitual patterns. In order for learning to stick, participants must get out of their comfort zones and be challenged in service of their growth. 
How can I determine what my team needs?
The first step is to assess your current situation. A candid view of where your team is and what they need to reach the next level is a thoughtful beginning.   After that, consulting with trainers who specialize in nonprofit leadership development is an excellent next step.
The best training programs are customized to suit each organization's needs. The key objectives for the training must be created in collaboration. 
What are some of the signs that my team should engage in training?
Is your organization experiencing any of the following challenges?
Not reaching its financial targets, or other objectives

Operating in an environment of mistrust

Experiencing unproductive conflict or avoiding conflict

Engaging in gossip rather than candid feedback

Second-guessing decisions

Lack of responsibility and accountability for shared goals

Donor attrition
Ambiguity about direction and priorities
Losing ambitious employees to other organizations
Unwilling to take risks out of the fear of failure
If so, then leadership training can help change those circumstances and create a foundation for success. 
How do I know that we are ready for experiential training? 
During a consultation, a thoughtful trainer will help you assess where your team is doing well, and where it needs help. Experience shows that teams benefit from training when they are ready to make a commitment to put in the time that is required for real and sustained change. 
Research shows that teams that are willing to try something different are often the ones that benefit most.   When participants consciously design an alliance with each other and the facilitators at the outset of a new program, the stage gets set for learning, growth, and transformation.  As a result, your team will:
be more interested in growing than being comfortable

seek feedback

be willing to experiment, fail, and learn 

ask for help and offer help 

empower individual and collective learning
Also, as part of the design process, trainers will help your organization create a follow-up plan to ensure your team puts the learning into action.
Why doesn't traditional training stick?
Many nonprofit organizations spend valuable time and money on skill development training.  Those programs can be helpful for new or inexperienced staff who need to learn core fundraising (and other) skills.
The work of Pat Lencioni in The Five Dysfunctions of a Team as well as Dan Goleman's seminal article on What Makes a Leader shows that what most nonprofit leaders and their organizations really need is to help professionals develop the key soft skills that allow them to work together more effectively. That is why more and more nonprofits are turning to experiential training that addresses the mindset and behavior shifts required for lasting change and sustainable results.
And, we now know that when it comes to teamwork and leadership development that sustains the organization in the long-term, there are very few programs that have a lasting impact.  Peter C. Brown showed in his excellent book, Make it Stick, that most investments in learning and development do not create lasting results unless the programs are carefully designed and delivered.
What makes experiential training stick? 
Nonprofit experiential training programs designed to STICK are now known to be the most effective for adult learners.  This type of training is designed to create opportunities for experimentation, failure, and reflection.   Successful experiential training programs allow participants to:
Practice what is being learned

Reflect and share what happened 

Process the learning individually and as a group

Make connections between this experience and their broader work

Commit to applying this learning in their own way
Why Fundraising Leadership? 
The Fundraising Leadership team has decades of experience in the nonprofit sector. We are certified professional coaches trained by the Co-Active Training Institute. We are graduates of the Co-Active Leadership Program, an intensive, experiential 10-month learning program.  Both of these programs are considered the "gold standard" for experiential learning.
In 2015, we came together with one purpose in mind: designing and delivering experiential training and coaching programs that STICK and help nonprofit professionals and their organizations succeed!
We have coached and trained nonprofit leaders and teams across North America. Clients appreciate that we are seasoned nonprofit professionals who create training that is highly relevant to their unique situations. 
Our experiential training programs have been described as "effective", "illuminating", "challenging", "fun", "productive", "powerful", and "full of surprises and insight."
Next Steps
Contact us to discuss how our team can help your organization achieve more success.