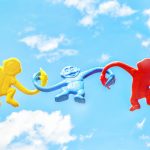 "Burgundy," I shout.
"Ochre," Katrin tosses back.
"Aqua," I say.
"Sunflower yellow," she returns. 
"Broccoli metallic!" I offer up, and we dissolve into fits of laughter and cannot continue any further.
It's the first few minutes of our hour-long meeting to prepare for a workshop, and Katrin and I have started off by playing a game we made up called "Color Duel." We take turns naming colors until someone repeats a color that's already named or pauses for more than 5 seconds or we can't stop laughing. And then the game is over and we get to work. It's so much fun for us.
We believe we lead and work better when we play, and we practice this by intentionally playing at the beginning of meetings to blow off steam. Having fun relaxes us, connects us, helps us be present, and refreshes our brains. 
But we weren't always like this. We had careers as hard-charging executives in the corporate world and were the proverbial "all work, no play" people. No time to have fun… we've got to get things done!
And then, at a leadership training program where we met, everything changed. Katrin and I were both "assigned" playful as one of our greatest natural leadership qualities by our classmates. Our playfulness was let out of the bag and ever since, we've been helping leaders cultivate playfulness.
It's June 2022, and it feels like a particularly important moment for leaders to bring play to their people and organizations. We're weary in the wake of a life-ravaging pandemic and seemingly endless crises. The world feels deadly serious.
To navigate this trying time, we want to recommend an unexpected approach: be more playful! Maybe this sounds crazy. "How can I play at a time like this?" you might ask. Consider: because we're collectively worn down by relentless stress, uncertainty, and negativity, we could all benefit from being lifted up by relaxation, safety, and positivity. And play delivers just this. 
If you think play is a frivolous, nice-to-have bonus for when times are good, consider that play's primary purpose is actually to help us rebound when times are toughest. Play is an underrated resilience tool. It's vital to our well-being, and the effects of play reach far beyond the immediate moment. This is true for business too, because as advertising legend David Ogilvy said, "teams that aren't having any fun rarely produce good results." Studies show that play puts us at our cognitive best, leads to better thinking and decisions, increases performance and accelerates learning. 
If play didn't have intrinsic value, evolution would have removed it from our biological urges. Like all animals, play helps humans relax and recover from stress, feel safe, form social connections, and generate positive feelings and motivation. In a world gone berserk, it'll help you stay healthy and sane.
As a leader, you can "go first" by developing an individual play practice, demonstrating playfulness and laughter, and encouraging playfulness in your people and teams, both at work and at home.
With mental health issues and burnout raging, people need permission to take a break and recover from stress regularly by having more fun. 
So, how do you bring more fun and play into your life, your work, and your relationships?  
It can be simple and fast, just like our game of "color duel" we shared at the start of this blog. But if you find it hard to get started, you're not alone. As coaches and leaders we work with people all the time who are great at the DOING: they're driven, successful and accomplished. And they're also stressed, worn-out and, on some levels, almost numb to life. 
Sometimes, in a coaching conversation we'll ask a client "what do you REALLY want?" We often hear them quietly reply, "I want more joy, more play, more fun."    
They need a little gentle encouragement to get back into the spirit of play. They worry that it's a waste of time, or that they'll feel stupid or look silly. They stress out about the tasks they need to accomplish and the deadlines that are whizzing in their heads. They are scheduled in back-to-back meetings and believe that productivity is more important than taking a play break. 
Step one: See the value in play and grant yourself permission to do it.
We had two execs at a play workshop once who said they needed to leave half way through to meet an end of day deadline. They were having so much fun that they stayed until the end and later reported that they were amazed to wrap up their deadline for the day much faster than anticipated because they were so energized from playing.
Step two: Let yourself be an awkward beginner at play and watch how it humanizes you, your team, and your colleagues.
Play may feel challenging at first, and that's normal. As with any skill that hasn't been used in awhile, play takes time to warm back up to. It also requires you to let go of outcomes temporarily. Do something for no other reason than to just have fun! Be goofy. Let loose. Don't worry if you look silly. Play has huge value, but you've got to "play" on play's terms. 
For example, I once worked with a corporate team for 6 weeks to develop playfulness together. It was awkward at first for them to have fun and be silly because they were so used to being serious around each other. Months later, with practice, they reported that play made them resilient to workplace challenges. It brought them closer during remote work, it brought motivation after a tough reorg, and it helped them heal after they lost a beloved teammate unexpectedly. They still have weekly play dates as a team because of the positive impact it creates.
Step three: Schedule and commit to play on a regular basis.
We all need to play more. Not just every once in a while, but on a daily basis. Commit to making space for even 5-10 minutes a day. Pick up your instrument again, sing a song, or build a model airplane. Get down with your kids and make something out of Lego that doesn't make sense at all. Go play tag, toss a frisbee, or swing at the park. Seriously, go do it! (Are you doing it?) And let's commit to laughing more, too, while we're at it. Play a harmless prank. Talk in a silly voice. Act ridiculous.
Ready to commit to a specific action? Here's what you can do to become a more playful human and leader:
Play as an Individual
What are three things that are so much fun for you to do? What makes you feel lighthearted, smiling, engaged, delighted, lit up? Write these three things down, put them on the calendar, and commit to doing them this coming week. 
Not sure what's fun for you? Think back to your play memories as a kid. What did you do for fun growing up? Were you always on the go moving around? Exploring? In your imagination telling stories? Our play preferences and personalities are ingrained at an early age so this exercise should yield fun clues. Now put three of these on your calendar and commit to doing them this week!
Still stumped or want more? Brainstorm a list of 20 fun things you've never done that you can try. Do all of them over the course of a month or two and keep a fun journal where you rate each item you try on a scale of 1-5 for how fun it is. At the end of the month, circle the 5 out of 5 items and commit to doing these things for fun on a daily and weekly basis.
Play as Colleagues/Team
Take 5-minute play breaks at work or start meetings with 5-minutes of play. You can play an upbeat song and have a dance party, co-create draw + build (in pairs, on a piece of paper, take turns drawing one line at a time and build on each other's drawing), share a summer sensory memory (take turns sharing the sights, sounds, smells, tastes, feeling – this is an amazing, smile-inducing, enlivening activity that brings people present), or share a memory of the last time you laughed really hard. You'll find 10 more easy ways to take a 5-minute play break as a team right here.
Have fun!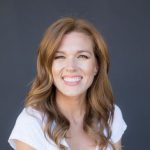 After a decade excelling in high-pressure startups and consulting for Fortune 300 execs and boards, Kaitlyn Corse burned out and now uses all she learned to partner with leaders and teams to establish human-centric, healthy high-performance workplaces where both people and businesses flourish. Through Delightful Movement, Kaitlyn helps top talent stay energized and engaged and helps organizations create workplace cultures of wellbeing so leaders and teams show up as their best selves and do great work. She knows an astounding array of different colors and is a master Color Dueler.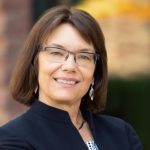 Katrin Windsor is an international Executive and Teamwork coach, change-agent, speaker and facilitator with 20 years of experience helping leaders and teams perform at their best. She has coached teams to greater performance in 40+ countries. Her clients range from founders to CEOs of publicly-traded companies and their teams. A native of Switzerland, she has lived in 5 countries and is fluent in not only speaking 5 languages, but giggling and joking in them as well.