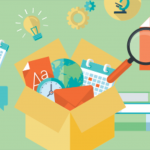 Most nonprofit organizations are careful about how they deploy their financial resources.  Boards and donors often want nearly all of the organizations' financial resources used for frontline purposes that support the mission.  While that is a noble sentiment, if taken to the extreme it creates a situation where there is not enough money available to develop and train professional staff, board members, and volunteers.
That frequently leads to staff and volunteer burn-out, as well as turnover in the ranks.
It's important to remember that the board, the staff, and the volunteers are also stakeholders.  And, in order for the organization to be sustainable, the people who govern it, the fundraisers who raise the money for it, and the staff that administer the programs delivered by it must have the nonprofit tools necessary to be successful.
This is why the Fundraising Leadership team created this low-cost toolkit that helps nonprofit organizations and their stakeholders flourish and thrive.
Crises happen.  Big and small.  They occur in nearly all nonprofit organizations. By definition, crises bring change, big change. They can change the entire trajectory of your nonprofit's future. The question is not whether you will get embroiled in a crisis, the question is how will you respond to and manage the crisis when it happens?
In a crisis, not everyone is immediately capable of rising to the occasion. Some folks get paralyzed, uncertain of what to do.  Some take unskillful actions that do harm to themselves, the organization, and those that the organization serves.  Sometimes, challenging circumstances can cause people to react in ways that make matters worse rather than better.
Leaders are not immune to this phenomenon. The way executives and directors behave in a crisis can change the fate of thousands of people.
That's why it's a good idea in the midst of a crisis to take a step back and pause for a moment.  There are are few well established best practices that can be followed for handling a crisis, no matter how severe.
Assess.  Gather all the facts, get objective guidance, and develop a clear picture of the situation.
Engage. Engage all key stakeholders. Trust the insiders who are trustworthy. Involve those who have a stake in the organization who will be significantly impacted.
Plan. Once you have all the data and a team of key stakeholders, develop scenarios. Planning enables you to act quickly, confidently, and effectively when the time is right.
Act. Respond proactively based on the assessment and planning.
Communicate. Communicate transparently and honestly.
Assessing, engaging, and planning requires that you remain calm and step back from the urgency of the crisis in order to think clearly before taking action or communicating.  A half-day (three-hour) session with all the key stakeholders is a good start.  We created a retreat toolkit to help you do just that.