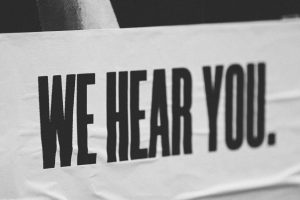 There are four listening competencies tied to the field of Process Consulting. These competencies are not exclusive to Process Consulting, however. They are essential to any form of rich, two-way, and mutual communication. These listening competencies are, therefore, relevant for anyone who intends to have a meaningful career in raising financial support for a critical mission.
Working with people with the means and intention to be generous, and doing so over time, requires a trusting relationship. Trusting relationships are built on this rich, two-way, and mutual communication.
One-way communication looks like the following:
The fundraiser lands an appointment to make a pitch. Any curiosity they show is in the hope that the potential donor's responses open a doorway to making the fundraising pitch. This type of communication is transmitted to get a transaction. Listening is utilitarian and secondary.
The potential donor seeks a means to be philanthropic. Any curiosity on the donor's part is to surface whether a nonprofit organization is open to receiving and using the gift as the donor intends. This communication is also transmitted to make a transaction (and possibly get a tax reduction or be identified as philanthropically-minded). Listening remains utilitarian and secondary.
Where one-way communication emphasizes speaking, two-way communication emphasizes listening, with listening being the priority.  
Two-way communication looks like this:
The fundraiser lands an appointment to form or deepen a relationship. They come prepared to be curious, hoping to connect to the generous heart of the giver. They want to know about the donor's intention to give and their heart connection to the gift. This type of communication is a reception to build ongoing transformation — for the giver and anyone who benefits.
The potential donor intends to be generous. They come prepared to hear more about the organization's mission, a possible or deepened connection to that mission, and how they might grow their giving. This type of communication is also a reception to be even more transformed and make transformational experiences available for others.
Shifting from one-way transactional transmission of fundraising messages to a two-way, ongoing and transformational communication starts with at least one of the two parties committing themselves to listen well — so well that the other party can say, "Yes, you understand me." The door then opens to deeper and more trusting relationships. Without this level of listening on the fundraiser's part, they become like hummingbirds — flitting from flower to flower, looking for nectar. No nectar? Nothing to give me? I'm moving on to someone who has something to give!
The Listening Competencies:
 The four listening competencies, as established by the Standards and Ethics Committee of the Society for Process Consulting, are as follows:
Listening Actively & Comprehensively
One's whole body, one's whole self, is used as the antennae. The listener is not elsewhere. Out of this, the listener can ask questions such as:
Is there anything more you want to say?
Can I play back what I understand from what you are saying?
Listening Conceptually & Contextually 
When people speak about matters of their hearts, they use words laden with dense meaning growing from their life experiences. Out of this, the listener can ask questions such as:
When you say _____, what does that mean for you?
What happened that made this so important to you?
Listening Architecturally 
Two-way communication begins to help each other not just listen to the other but also to listen to the self. Mutual listening places those in the relationship side-by-side to work at something together rather than just across from each other, pinging messages back and forth. It opens the door to a mutual curiosity about what might be able to be done together and for mutual benefit. Architectural listening, growing out of listening fully (actively and comprehensively) and meaningfully (conceptually and contextually), lends itself to questions like these:
If your gift made a real difference, what would that look like for you? (Please note how different this is from just stating, "this is the difference your gift will make.")
What ideas do you have for us?
Listening Adaptively 
Trusting relationships create an opportunity to connect again because something is being done together. Out of this, something happens, and we have occasion to observe it and ask:
What do we have here? What can we learn from this?
What else or what next might we do?
If we were in the same room when you read this, I'd ask you to join me in yet one more question: "In building these listening competencies, what do I want to do next and why?" Then, hopefully, I will use the opportunity to listen to you and ensure I understand what you are saying. You could then do the same for me.
__________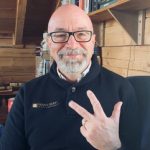 Mark L. Vincent, develops executives' capacity for thinking through his work in process consulting and executive advising, including his facilitation of several Maestro-level leader cohorts. Mark founded Design Group International — a community of practice built on Process Consulting, as well as the Society for Process Consulting which offer professional credentials for the field of Process Consulting.

In his career, Mark pioneered a variety of approaches for executive leadership and organizational capacity, entrepreneurship, strategic interim leadership, and professional development and credentialing. His focus on helping organizations and leaders achieve their mission's objectives led to successful initiatives with more than 850 clients in varied domestic and international marketplaces. 

Married to Patricia Teall Vincent, and a grandpa to six, Mark divides his time between family, work, and imaginative conversations in the various coffee shops of Boise, Idaho, and Eastern Wisconsin.