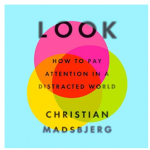 An excerpt from Look: How to Pay Attention in a Distracted World By Christian Madsbjerg 
The year was 1959 and a young French anthropologist named Pierre Bourdieu was visiting his home in the foothills of the Pyrenees while on leave from the miliary. He had been focusing his research on far-flung locations in Algeria but he realized during this visit that his own childhood village was just as deserving of an anthropologist's eye. Although he had known the small town of Bearn his entire life, he had never really seen it. Could he make the familiar feel strange and look at it with the eyes of an outsider?
An opportunity presented itself one day when he went out to visit one of his classmates from primary school who was then a low-ranking clerk in a neighboring town. His friend pulled out a photograph taken of their entire class when Bourdieu and he were children. There were dozens of sepia-toned faces of young boys all the same age and from the same small peasant community. The boys stood in lines wearing the same drab peasant shirts and slacks. The group looked remarkably homogenous, yet Bourdieu's school friend cast his hand across the photo in dismissive scorn and pronounced half of these young boys "unmarriageable." The children he was referring to, now grown men, were all the oldest sons in their families. In the agricultural world of Bearn—one that at the time revered primogeniture, the tradition of passing land down through the first-born son—the idea that eldest sons would be unmarriageable didn't make any sense. More striking was the cruelty with which his friend tossed off the remark. Unmarriageable. He might just as easily have said: Worthless.