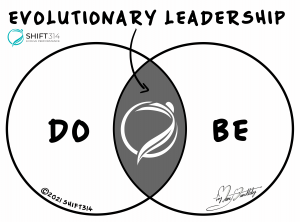 [This post is an excerpt from the book Leading Beyond Change by Michael K Sahota and Audree Tara Sahota]
Many leaders hold the false belief that all we have to do to create success is to learn the right model, concept, skill, or technique. The basic premise is that we are fine and that new information or training will help create the success and impact that we want.
In this mindset, we see people (including ourselves) as black boxes where we don't need to concern ourselves with what is inside the box. We can create success by focusing on the boundary of the box: the actions or doing. 
When we examine the ways of business-as-usual, they are almost entirely about external measurable actions and behaviors. The whole of the human experience is relegated to the rational, logical, and measurable.
The trap of traditional organizations and leadership is to focus on the external aspects of action and doing. It's rather a waste of time since we are trying to fix the external effects rather than the inner causes. For example, the surface-level external problem of responding angrily to an email is ultimately caused by the internal challenges with emotional regulation and conditioned behavior patterns. Addressing challenges at the surface level will only lead to temporary superficial change.
To Find Success, Move From Doing to Being
"Being" is about who you are and how you show up for others: your inner state. It's about your identity, values, and beliefs, which ultimately shape behaviors. Our state of being has a profound impact on others that goes beyond words and actions. 
There are people that "feel good" to be around. There are other people who give you a "bad vibe". A leader walking into a meeting room can uplift and support people or take out the whole room. They don't even need to say a word.
Being is the Foundation of Doing
The doing is about the "what", while being is about the "how". Any given action can be taken with a different way of being. 
Consider the act of giving feedback about a critical matter to someone else in your organization. There is a doing: the sharing of information that is potentially uncomfortable for the other person. Then there is the being: the manner in which you undertake the sharing of the feedback. The beingness can be supportive, caring, and focused on that person's growth and success. Conversely, the beingness can be about the error, the person's performance level, and correcting them to get the job done.
There is no way to fake caring or other positive ways of being. As human beings, we are equipped with mirror neurons that allow us to sense the emotional state of others around us. Consequently, there is no strategy or tactic to overcome challenging emotional states and judgments about others.
Of course, success requires both the doing and the being. The key point is that being is the foundation of all doing. While skills and accurate models to understand the world are important, what is even more important is how one shows up. As was shared in an earlier pattern: a new way of being unlocks a new way of doing.
Gandhi's Story
There is a story about Mahatma Gandhi that is instructive in understanding the principle on which this key leadership practice is based. The consciousness of Gandhi was so great that people from all over India would come to him to seek his advice for unsolvable problems. Consider what insights come from this story:
A woman came to see Gandhi, waiting in line for more than half a day with her son at her side in order to have an audience with him. When at last it was their turn to speak to him, the woman said, "Mahatma, please. Tell my son he must stop eating sugar. It is ruining his health, his teeth, it affects his mood. Every time he has it, I see the change in him and there is nothing I can do to stop him from eating it, and then eating more. He's a good boy, but when it comes to sugar, he becomes a liar and a thief and a cheat and I'm afraid it will ruin his life. Please, Gandhiji, tell him to stop."
Gandhi looked at the boy for the longest time as he cowered there, trying to hide in his mother's sari. Finally, Gandhi broke the silence and said. "Come back to me in two weeks' time."
Two weeks later the woman returned with her child and once again waited in line for hours before finally, it was their turn to see the Master. "Mahatma," said the mother. "We have returned. We come to you for help with this boy and eating sugar and you asked us to come back after two weeks."
"Yes, of course I remember," said the master. "Come here, child." He motioned the boy forward.
The boy, at the urging and prodding of his mother, disentangled himself from her sari and stepped up to the Mahatma who reached out, putting his hands on the boy's shoulders and pulling him in close. He looked at the boy squarely in the eye and said, firmly, "Don't eat sugar," then released him.
"That's it?" said the mother. "That's all you're going to say?" She was flabbergasted. "Why didn't you just tell him that two weeks ago?"
"Because," replied Gandhi, "Two weeks ago I was still eating sugar myself." (Reilly, 2008).
Be the Change You Want to See in the World
This quote speaks to the key insight into the reality of leadership.
For many, this might be understood as an inspirational message. And it is more. Much more. It is very specific guidance into how to unlock your leadership, the leadership of others, and high performance in organizations. 
The first level of understanding of this story is at the level of behavior. The only way Gandhi could authentically instruct the boy was from a place of integrity where he also did not eat sugar. Here we could say Gandhi was leading by example.
The deeper level of understanding is at the level of being. Consider for a moment the power of Gandhi's words. They had such an impact that the boy did indeed stop eating sugar. From this, we can understand that leading by example is a basic requirement for leading at a more evolved level of consciousness. The impact of our words and deeds becoming a transmission depends entirely on our being.
Daily Operational Guidance
The above quote from Gandhi is not just motivational, it is daily operational guidance for high performance. The essence of great leadership is about being, not doing. Focus on your being. Focus on how you can show up as the future you want to create in your organization. 
Gandhi's activities allowed India to be liberated from the British through non-violence. This is an incredible accomplishment in the history of human beings on the planet. It is our inner state of being, that transmits and has an immediate and direct impact on those around us.
Evolutionary Leadership
Effective leadership requires an integrated shift in doing and being. The key is what we call Evolutionary Leadership – the natural evolution of Servant Leadership to what matters most. Here is our definition:
Evolutionary Leadership is the choice to evolve oneself and learn the capabilities needed to evolve an organization. 
Evolutionary Leadership may mean doing things differently – but its foundation is a new way of being. By undertaking a path of self-awareness and a commitment to our own evolution, we leave behind our old ways of doing things that lead to lower performance. By transforming our way of being, we become a truly great leader that can inspire and elevate others to create a more engaged, higher-performance work environment.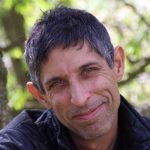 Michael K Sahota is the founder and CEO of SHIFT314 Inc – a bespoke leadership training and consulting organization that specializes in the organizational culture and leadership shifts needed to unlock success with Agile, Digital, Lean, etc. He is the co-creator of the SHIFT314 Evolutionary Leadership Framework™ (SELF) that provides practical step-by-step for the inner and outer shifts needed to unlock Business Agility, Teal and other new ways of working. Michael has trained thousands of leaders worldwide through his highly accoladed Certified Agile Leadership Training. In 2012, he published the ground-breaking book "An Agile Adoption and Transformation Survival Guide: Working with Organizational Culture". Michael's published "Emotional Science" in 2018 and "Leading Beyond Change" in 2021.