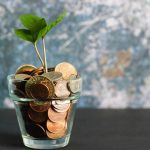 Spoiler alert: I strongly believe that the answer to the question in the title is YES.  And not only that, but there's a decent chance the impact your money story is having isn't pretty.
So, what is a money story, exactly?
Most of us learn "stories" about money from the Big Three Influencers: our families, our communities and our churches (and other religions). Sometimes the messages are lovely, about sharing and abundance and villages raising children.  MUCH more often, people are taught that money is scarce, that it must be earned with sweat, that it is infused with power, that it is linked to greed and evil. They learn that money is something others have more of, and that it creates imbalance. They learn that there isn't enough.  They learn that it comes with strings attached.  They learn that asking for it is bad.
I'm not saying that all those stories are untrue.  What I am saying is, that's a lot of baggage to carry around for anyone, much less those of us who live in the space of raising money for our organizations. And what I am coming to really understand is that when we bring our complicated ideas and beliefs about money into a fundraising meeting, we can and do pollute the relationship with our donors.
A couple weeks ago, I led a workshop on this topic.  Here's something I witnessed during the workshop, and it's a great example of how this works. Many years ago, in my hometown of Boulder, Colo., my former workplace started following – and disseminating through our biennial TRENDS Report – data on giving in our county.  Charitable donations were and are persistently lower (as a percentage of income) than neighboring counties and lower than the national average.
I believe in numbers, and I'm not arguing with the truth of the data. And the reasons behind this local picture are certainly curious and worthy of discussion. My point to my attendees, however, when this topic came up is that I don't think having these statistics in mind when one approaches a donor is going to have the desired impact (assuming the desired outcome is that a donor agrees to make a gift). If I head into a meeting believing that I live in a town that isn't generous, and probably the people I'm meeting with also won't be generous, that story is going to ooze into my expectations and will influence how I show up.  It's going to impact my meeting.
One of my favorite voices on money and money stories, Lynne Twist, concurs that our initial relationship with money is a product of our culture.  For most of us, she writes, "this relationship with money is a deeply conflicted one, and our behavior around money is often at odds with our most deeply held values."
I concur completely with what she's saying, and in my years in the fundraising world, I've noticed how that conflicted relationship prevents us, in many cases, from fully resourcing our organizations. It also creates deep anxiety and dread for many people who raise money.
Here are some other examples of people's money stories, stories I believe are impacting – in an unintentionally negative way – their asks:
Jane grew up on a midwestern farm where, she heard regularly, "we work for our money." She came to believe in a story that asking for things one hadn't worked for was greedy and bad. When she had to ask for money for her organization, it made her flinch: she'd hear her mother's voice in her ear telling her she shouldn't ask for things if she hadn't sweated or developed callouses earning them. Never mind that she wasn't asking for money for herself – in fact, her organization was doing very hard work to address its mission. Her money story wasn't cleaned up or reoriented that way.  So her impact when she asked for donations was that her words said one thing, and her emotions said something different, creating a confusing push/pull.
Simone grew up in a family with lots of privilege. Her family had a lot of disposable income – which they deployed in ways that conferred rewards and punishment. When she got good grades growing up, her family would reward her with an expensive gift.  Conversely, if she angered her parents or said something contrary, they would make her pay for things unexpectedly.  Her money story: other people control money, and it's unpredictable.  Her story had her feel powerless in her relationship with money.  The impact: she always felt "less than" when she was around donors, like there was no understandable relationship between the quality of her organization's work and dollars that came in. From that place, it was hard to be confident or compelling.
Matthew isn't good at saying no when others ask him for money. He's always lending money to friends, and whenever anyone from a nonprofit asks him for a donation, he says yes – regardless of whether his bank account has ample funds or whether he is aligned with the mission of the organization. His money story: he is being coercive if he makes a direct ask, because he believes that others are as unskilled at saying no as he is. The impact: he radiates apology for this "unpleasant" task.
Here's something I believe: donors don't want our cringe or shame about money to be at the table.
Donors, like most humans with disposable income, like to deploy that money in ways that feel good.  This can be an expensive good feel, like an amazing vacation that includes fine white sand between the toes or enjoying the purr of a well-made car.  But even those with less income – many of whom are also donors – want their expenditures to feel good, even if it looks like buying a treat at the grocery store or owning something new.
If we are doing our job as fundraisers, our energy about money should make our donors feel good.  Ideally, we inspire hope and satisfaction. They will be excited about the impact their donations are making, the problems they are helping to solve, the opportunities their gifts provide. And it's very hard, if not impossible, for our unclean money stories, the ones that involve cringing and shame and evil, to coexist with a high-impact, Porsche-level ask.
So, how can we clean up our money stories? Here are a few ways to start:
Ask yourself, what did my family teach me about money? If not your family, look into your community or your church. (One person I met who really hated asking for money had attended a church with his family where they were kept after the service until they made their weekly offering. Every time he thought about fundraising, he would remember what it felt like to be hot, hungry and in need of a pee!)
Think about the impact your money story might be having during your ask. What are the words that you would use to describe your relationship with money? Those might be the same adjectives that characterize your ask.
Visualize what a clean relationship with money would look like for you. What would it look and feel like to have all your attention and energy deployed into your passion about your organization's work?
Asking for money can feel regal and moving. I hope you'll take a dive into your own stories about money, and, in so doing, up your game.
Margaret Katz Cann is the founder of MKC Coach, where she works with nonprofit clients to clean up their money stories and make their best and most compelling ask.  Before that, she was the VP of Philanthropic Services at the Community Foundation Boulder County for over 20 years. She lives in Boulder, Colo., where she — unoriginally — likes to play outside.