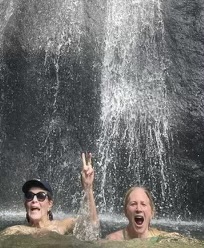 Back in 2019, when I still believed in planning and intention setting, I choose some words for 2020: potent, tender, and raw and real.
Those were good and beautiful words – and ones I still try to live by – but I didn't bother choosing intention words heading into 2022. (The word for that turns out to be "prescient.")
But because I am a word person, I do have a word that I want to embrace starting now.
It's SURFING.
I don't surf, personally, because I have a deep aversion to getting water up my nose and drowning, both of which seem inevitable when I consider paddling myself out into waves. Yet, there is something about the metaphor of it that feels pretty helpful right now. Sometimes we miss a wave we meant to catch. Sometimes we grab it and get an incredible ride that fills us with lightness and aliveness – even if it threatens to take away our footing. And sometimes, the wave clobbers us. And, then we blow the water out of our nose and climb back onto the board to try again.
And the question is, as leaders and humans, what do we need to reach for to go seek that next wave? [Read more…]