Brought to you by the Fundraising Leadership Team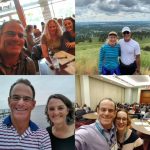 Margaret: Can We Stop Talking About "The New Normal", And Try Instead To "Live in Liminal"?
Last month, I celebrated the American Thanksgiving with my two sons and one of their friends. Since the end of my marriage two years ago, I have been deeply resistant to holidays. Ours is a family that loved and valued traditions – and I couldn't quite let go of the tradition of the four of us all being at the table. So, for the past two years, we've found a way to combine forces.
This has had the positive effect of no one needing to have a major holiday without our sons. However, as anyone who's ever had a relationship end also knows, it's had many tick marks in the "negative" column, too.  My kids have reported – with accuracy – that it has felt tense and awkward. One of my sons even said it felt like there was something decaying in the room – the decomposing space of a marriage that hadn't been allowed to burn fully to ash so that something new might (or might not) be possible.
This year, my ex-husband wisely said: let's not. And he resourced himself with other family members, and I got to spend the day cooking and enjoying a meal of gratitude with my grown sons.
And I realized, the morning after Thanksgiving, as I finished putting away the wine glasses and reflected on a great night, what I had been missing out on by holding onto the comfort and familiar of what's now the old. We had a lovely night, in which I got treated to my sons' culinary talents and adventure (deep fried turkey!), as well as a way we danced together during cooking and cleaning that was as delightful as it was oddly unexpected. This is a new way my family looked this year, and even though it is likely to change without notice, I loved it. And I have taken years to be open to this delightful new version. [Read more…]