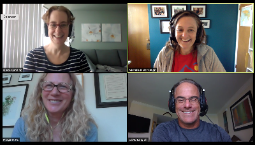 When people ask one of us what we do for work, we might answer with genuine joy: "I'm a coach" or "I train nonprofit leaders." And we are super clear on what we do and, to a team member, believe deeply in the impact of our work.  But recently one of us was talking to someone who ostensibly knows what we do, as she is a listener of our podcasts and reader of our blogs. And she said, "I know what you guys do, and also, I actually have no idea. What is it that you do for nonprofits?"
And so we decided that her question was a good one, and worth answering. And we want to do that and also add another question we want to answer for you today: How are our clients different and better after they have engaged with the Fundraising Leadership team?
We want to lay it out for you, without assuming that people know. Being a "Best-Kept Secret" isn't an award we are seeking.
So we wanted to take a deeper dive into our services, which, engaged in sequence, comprise our Leadership Arc of Learning, in which we customize a plan to work with individuals on leadership, communication and courage. Then we engage with teams to help them learn how to find common and clear alignment, candor and integrity, communication skills and compassion. And then we bring it all together for a nonprofit dream team.
Although we also work with clients in the for-profit community, one of the things that sets Fundraising Leadership apart is we all share a deep commitment for the work and culture of nonprofit organizations.
Here's a team-written guide to What We Do:
Executive Coaching, by Michelle Maloy Dillon
All of us at Fundraising Leadership are certified professional coaches and we love coaching nonprofit leaders and fundraisers. But what does that really mean? What is coaching? How do we work with nonprofit leaders and fundraisers? And how is coaching impactful? Great questions! Here are the answers.
What is coaching and how do we work with you?
Fundraising Leadership coaches work with you when you are experiencing a challenge with your nonprofit leadership style and/or your fundraising ability. During this time, you may be experiencing some or all of the following things: 
Growing into a new role 
Team is growing, shrinking or quitting
Challenging fundraising initiatives 
Communication break-downs
Conflict is happening
In short, what was working for you until now is no longer working. You are feeling frustrated, stressed or aren't clear about the best way forward.
Your coach serves as a sounding board during confidential one-on-one conversations for you to bounce thoughts and ideas off of. Your coach will ask you lots of questions to explore things from different perspectives. You will both explore what is most important to you, what values you hold, what inner resources you have for you to create the most impact with your decisions and resources. 
Your coach will help you to react less and create more of what you want.
As a starting point, the coaching engagement takes place over a series of months. This gives you time to try out new behaviors and skills and to reflect on what you are learning. This also allows for successes and failures to happen along the way and for you to have coaching support for maximum learning. Your coach will challenge you to try things differently than you have in the past in order for you to grow. Coaches listen deeply to what you are wanting and the ways you sabotage yourself along the way. We reflect back on what we are hearing and explore the patterns of behavior you may be stuck in.
How is Coaching Impactful?
In short, coaching helps you to develop new patterns of behavior so that you respond more calmly to stress, make choices more easily and become a more creative thinker. This leads to more success and fulfillment in your work and in your life as a whole. I know it sounds idealistic. But, there is a connection between coaching and neuroscience. Coaching works!
The impact of coaching on the culture of your nonprofit organization can also be profound. Supporting the nonprofit leaders in your organization with professional coaching helps teams work more effectively and efficiently – and with more joy! Coaching drives more collaboration and creative problem solving. There is more buy-in and accountability and people work better together. 
What is unique about our coaching?
Fundraising Leadership coaches, Janice, David, Margaret and myself found each other through our coaching and leadership training at the Co-Active Training Institute (CTI) and that inspired the creation of Fundraising Leadership. CTI provides the most rigorous coach training available. I loved the Co-Active coach training so much that I now train coaches worldwide for CTI in addition to my work at Fundraising Leadership! We all currently have or have had coaches of our own. Coaching has profoundly changed each of our lives, too. 
I truly believe that coaching can change the world for the better. We all create an impact in our world. Coaching helps you to be conscious of the impact you are wanting to create and gives you the tools to make that impact real.
If you'd like to have a conversation to see if it's a good time for coaching for yourself or your organization, feel free to contact one of us.
We Work with Teams by Janice Cunning
Our work with teams sometimes flows from coaching engagements. Coaching creates a shift in leaders that is so powerful they want it to cascade out to their whole team. Other times, organizations approach us because they are in a time of transition such as a leadership change or merger. Or the team may not be functioning at a level needed to reach its fundraising or other goals. This can be signaled by the presence of mistrust, gossip, unproductive conflict, or lack of accountability. And, of course, high turnover of staff is another high-cost red flag. 
Most organizations invest in high-quality fundraising training and this is very important. And yet, the leaders and organizations that work with us realize that what most nonprofit leaders and their organizations really need is to help professionals develop the key "soft" or leadership skills that allow them to work together more effectively. That is why more and more nonprofits are turning to experiential training to address the mindset and behavior shifts required for lasting change and sustainable results.
We base all our training on the experiential learning model where participants make discoveries and experiment with knowledge firsthand. The purpose of the training is to strengthen each participants' expertise through experience, observation, conceptualization, and experimentation. The aim is to help each professional stretch into their best self.
So what do teams experience in our workshops? 
We offer an array of workshops and programs that can be customized. One of our most popular workshops is the Growing Together Through Trust, Candor, and Conflict Workshop. 
We often suggest this workshop as a starting point because members of high-performing teams must first trust one another on a fundamental level. In other words, there is no success without trust. These teams learn to be comfortable being vulnerable with each other not only about their strengths, but also their weaknesses, mistakes, shortcomings, and behaviors. They get to a point where they can be completely candid with one another.
An environment of trust allows teams to engage in conflict around ideas, which is the key to individual and group success. They do not hesitate to disagree with, challenge, and question each other, all in service of finding the best solutions to challenges. This is so important in today's ever-changing nonprofit sector. We need new ideas and perspectives more than ever. 
This workshop focuses on activities and exercises that get people into action. We create a space that is safe AND also purposely designed to confront participants' habitual patterns. This is where true transformation happens. 
In the Growing Together workshop, participants begin by consciously designing how they want to be together. We use the well-established DISC assessment to create conversation and learning around different communication styles. There are demos and activities around productive conflict and feedback. Learning happens through engagement. The workshop ends with the team committing to next steps. And, of course, the Fundraising Leadership team is there to ensure the transformation sticks. 
As one participant said, "It's about as much personal growth as you can pack into 6 hrs.  Awesome!"
Read about all our workshops and nonprofit training options and then reach out to us to talk about how experiential training can take your team to the next level. 
All About Positive Intelligence (PQ) by David Langiulli
I confess. I'm a personal and professional development junkie.
In 2013 when I was leading a fundraising team at Princeton University, I stumbled across Shirzad Chamine's New York Times Best Selling Book, Positive Intelligence (PQ).  That book changed the trajectory of my life and led me to get my coach certification in 2014 and to launch Fundraising Leadership with Janice in 2015. 
Since then, Shirzad and his team launched online PQ Assessments and developed a training program, which Janie, Michelle, Margaret, and I completed to help clients to minimize how they sabotage themselves and maximize their leadership superpowers.
Now, we've trained and coached scores of nonprofit leaders in the PQ methodology.
As the great philosopher Yogi Berra once said about baseball: "Ninety percent of the game is half mental." As in baseball, so also in life and leadership.  And this is where Positive Intelligence comes in.
PQ synthesizes recent breakthroughs in neuroscience, cognitive and positive psychology, and performance science.  It is validated by over half a million participants in 50 countries.  Ultimately, PQ predicts how happy you are and how well you perform relative to your potential.
And the results in terms of relationships, communications, performance, happiness, and productivity are simply astonishing!
Healthier Relationships
(92% of participants report better relationships)
Improved Communications
(94% of participants report reduced conflict)
A Calm, Clear, and Happier Mind
(95% of participants report greater happiness and 91% report reduced stress)
Dramatic Increases in Performance and Productivity
(92% of participants report better teamwork and collaboration) 
 Here's some of what clients say about the program:
 "I've completed several personal growth and professional development programs.  The daily practice causes ease and flow in my life.  PQ gets to the root cause of many unskillful behaviors.  It gives me simple, practical tools for dealing with life's challenges."
"I'm so much more effective and have so much less stress in every area of my life — from blowing past targets at work to far more fulfilling relationships at home."
 "This has been the most impactful training I ever experienced.  I developed powerful mental muscles to deal with challenges with much less stress and greater clarity, creativity, and resilience."
 "This has been a profound growth experience.  I now consistently feel joy and calm in the middle of handling the many challenges of running my team."
 "It was a wonderful program that pushed boundaries and helped me become more grounded."
 "Learning the PQ framework has given me tools that have transformed how I see challenges, support teams as a manager and leader, and even experience life with family and friends.
If you want to raise more money, sharpen your management skills, and improve relationships with board members we encourage you to register yourself into the PQ Coaching Program.
Less Dread about "the Ask": Fundraising Coaching and Training by Margaret Katz Cann
Here's a typical engagement: an executive director approaches us. She is new, perhaps recently promoted from programmatic work. Or perhaps her organization has been primarily grant-funded, but now needs to implement an individual donor program. She is deeply passionate about the mission of the organization. She hasn't had a lot of formal leadership training, but she's doing well with most, but maybe not all, of her direct reports. 
She needs to raise money, but she doesn't know where to start. 
When she thinks about hitting send or picking up the phone to call a donor, she feels dread, and finds ways not to do it. When she does speak with a donor, she feels like an imposter and always wants to apologize, although she isn't sure for what. It is the most loathsome part of her job (or maybe it's a tie, neck in neck with trying to manage that one team member…).
We begin a fundraising coaching engagement with a shared outcome: move out of dread and become a confident and compelling fundraiser, leader, and voice for the organization. 
We do this by meeting our client where she is, and using coaching skills and nonprofit wisdom, help her find what she is tripping over and move and grow into a more powerful place. We are also available to co-create a plan, articulate the value and case statement with her for the nonprofit, and, if helpful, also train her team and her board in some fundraising skills they are game to learn.
What differentiates our work with fundraisers is that it is all done through the lens of coaching: less of the how-to or what to do, and more of how a client wants to be, how they want to show up, how to connect to their passion – all in service of building better relationships and raising more money for their organizations. 
After our engagement, our clients are able to step out of apology and step into their most compelling leader and fundraiser.
That's A Lot
We understand that organizations are complicated, that goals and culture are shifting – or they are stuck. Both are hard. Teams struggle to find flow and struggle to work with different personality and communication styles. Employees are stressed out and burned out – or they are inexperienced, or prickly. No one is being honest or candid. Leaders feel dread about many of the elements of their jobs: having hard conversations, giving feedback, saying no, inspiring people.
The team at Fundraising Leadership loves to work with teams, leaders and organizations that long to function better, to flow more, to feel purpose and alignment. 
We work with our clients to find the right entry point, and then build, when it serves, our various offerings into an Arc of Leadership Learning. We might offer our Growing Together through Trust, Candor and Conflict workshop, then do some executive or fundraising coaching with leaders. The team might benefit from the shared growth and skills gained through the PQ program.
We work with teams to move from good to dream teams.
We lead clients on a journey towards more peace, less brain chatter, and more compelling leadership through coaching and PQ Training.
We help leaders show up powerfully, intentionally and with integrity.
We help fundraisers find their swagger and bring in the big bucks.
That's what we do.