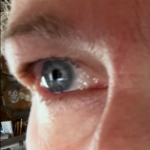 Sometimes seeing the person that is actually standing in front of me – rather than the person I wish were there – feels like standing in the rain with a painting I spent my whole life perfecting, watching all the colors run down my legs and into the street.
It is an experience of grief.
Many of us could use some exercise around reconciliation of humans, even though it can be excruciating. Sometimes the reconciliation can be required for a spouse or a parent – or even a child.  Sometimes, it is articulating that a job you've longed for isn't sustainable, isn't as described, or is tainted by a boss who feels ogre-like.
Many of us, especially in the nonprofit and fundraising worlds, have some Pleaser saboteur in us. By definition, we have deep reservoirs of hope and idealism. We have it in our DNA, some of us, to see people as good, to look for their shiny and their silver linings. And many of us don't like rocking the boat, so we make excuses or silently endure the parts of others that are jagged or mean. [Read more…]