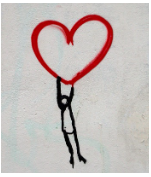 I've been practicing mindful self-compassion for a while now. It's a program based on: The Mindful Self-Compassion Workbook.
This work could not have come at a better time for me.  For most of my adult life, I had a strong inner critic that was harsh and judgmental.  
At one point, I labeled this voice "Sledgehammer" because sometimes it felt like I was beating myself up with one. 
As a result of some work called Positive Intelligence and the exercises in the Mindful Self-Compassion Workbook, I've turned down the volume on that harsh voice.