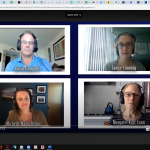 We love co-hosting the Fundraising Leadership Podcast. In each episode, we are joined by nonprofit and other professionals for engaging and inspiring conversations related to leadership, management, fundraising, and personal development.
We are excited to be named as a Top Fundraising Podcast by Welp Magazine.
We are featured along with some of our podcasting friends like Jason Lewis of The Fundraising Talent and Fundraising Voices from Ruffalo Noel Levitz.
Welp Magazine is an online publication, that provides helpful resources for businesses, covering everything from software and accounting tips to office furniture recommendations.
If you haven't already, please subscribe to our podcast at iTunes, Google Podcasts, Amazon Music Podcasts, or Spotify.