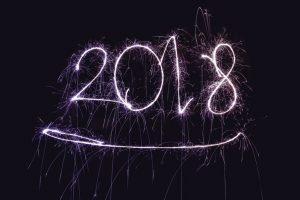 For many non-profit professionals, the end of the year can feel like a whirlwind. There is often a big push to secure those year-end gifts, which then creates a demand to process all of those gifts before December 31st.  Frequently there are year-end board meetings, which create significant amounts of extra work for staff. Fundraising staff is busy organizing with volunteers to call donors or write personal, hand-written notes to thank them for their support. And then there is the endless parade of holiday parties and lunches. Who's got time to even think!
Since it is often a busy time of year – both professionally and personally – you might suddenly find yourself facing the New Year and wondering where the time has gone. And, you may be asking yourself: "how did I get here?"
Before that happens, I encourage you to make sure that you set aside a few hours to reflect on the past year and celebrate the many breakthroughs and break-downs that may have occurred.  Reflection and celebration can offer you:
renewed energy from acknowledging your achievements
insight into your strengths
awareness about areas that need improvement
a chance to celebrate your successes and failures, and
time to ponder the lessons that will help you grow next year.
About eight years ago I participated in a group coaching program where I met my accountability partner Sally. Since then, Sally and I have supported each other as we work on our professional and personal goals. As the years progressed, we created a structure that includes monthly, quarterly and yearly reflections.  At the end of each year we get together to reflect upon and discuss our answers to the following questions:
What went well this year?
What didn't go so well?
What did I accomplish that I wasn't expecting to?
What did I most enjoy in my work this year?
What did I least enjoy in my work (but was glad I did it)?
What did I least enjoy in my work, and how can I stop doing it going forward?
What lessons did I learn?
How can I make what I'm already doing even better?
What are some things I'm currently not doing, and that I would like to next year?
Having an accountability structure on your team is also a way of creating a culture where professionals at work support each other and the mission of the organization.  In January of 2019, David Langiulli and I will offer a free online workshop to demonstrate how to create that culture in the workplace.  You can register here.
On a personal note, I also take time in December to make a list of the 25 things I am most proud of from the past year. Because 25 is a pretty large number it forces me to reflect and find some of the smaller things of which I am proud. This list is a blend of the professional and personal and includes both the large and small.  I find it fun and rewarding to look back at past lists to enjoy and honor things that happened in my life, and to take pride in what I created.
As a reminder, the Fundraising Leadership is a learning community.  It was created to support nonprofit professionals with their professional and personal development.  I'm sure many of you have meaningful year-end routines.  The community would love to hear what yours looks like. Please share how you reflect on the year in the comments section of this post.  We'd love to learn from your wisdom.
Janice Cunning is a Leadership Coach who is passionate about partnering with fundraisers to help them create an inspired vision that transforms lives. She is a Certified Relationship Awareness Facilitator who uses SDI to strengthen team dynamics.