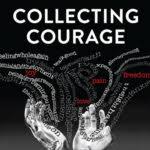 "Power without love is reckless and abusive, and love without power is sentimental and anemic. Power at its best is love implementing the demands of justice, and justice at its best is love correcting everything that stands against love."  ~ Martin Luther King Jr.
Collecting Courage: Joy, Pain, Freedom, Love is a perfect example of what happens when two parallel paths converge to create something special and of significance.
On one pathway was Our Right to Heal, an initiative featuring the voices of ten Black Canadian fundraisers sharing their journey towards healing from painful and traumatic experiences. In May 2020, a few days before George Floyd was killed at the hands of the Minneapolis police on May 25th, the stories were published by the Association of Fundraising Professionals (Global). His death served as a flashpoint triggering worldwide outrage about police brutality against Black people and igniting protests against anti-Black racism.
On a related and separate path, our group of Black Canadian fundraisers selected Cap in Hand: How Charities are Failing the People of Canada and the World by Gail Picco as our book club selection for December 2019. When Gail joined us for the discussion, she shared her idea about a compilation of writings featuring the voices of Black fundraisers. In March 2020, Gail became the Editor-in-Chief of The Charity Report, a new digital magazine, and at the same time launched Gail K. Picco Books, an imprint under Civil Sector Press.
These two convergent paths intersected, creating a perfect storm and genesis for the book. Conditions and timing were right to address historic exclusion and oppression in the charity sector. In June, discussions got underway and Collecting Courage: Joy, Pain, Freedom, Love was born. [Read more…]