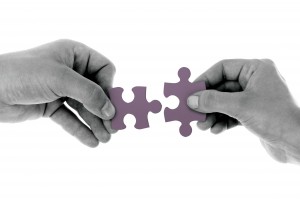 When I bring up the idea of conflict, what is your reaction? Do you feel confident facing conflict situations head on? Or would you prefer to avoid conflict because it makes you uncomfortable?
According to Relationship Awareness Theory, people react to the idea of conflict in three main ways – Assert, Accommodate, or Analyze.

Those who Assert are often more comfortable engaging the issue that is causing conflict. The other two groups will be looking to keep the peace (Accommodate) or gather facts (Analyze). This helps us to understand why for many people the default is to avoid conflict altogether.
Yet we all know unresolved conflict comes with a high cost in the workplace. Conflict occurs when a person experiences a threat to their self-worth. In other words people go into conflict only about things that are important to them. Therefore, if we avoid conflict situations, we lose the opportunity to deepen our relationships with our colleagues.
It is important to pause here and distinguish between conflict and opposition. People may have conflicting ideas without threatening each other's self-worth. Opposition turns to conflict when it gets personal. For example, Jill might believe that the organization should only have a print version of the donor report. Her colleague Keisha might hold the view that an online version is a better choice. They have opposing views. It becomes a conflict if Keisha says "Jill you are always the one who gets in the way when we want to do something different."
Let's imagine a metaphor of a large boulder. When two people argue about "Who is right" rather than "What is right," it is as though they are simultaneously trying to push that big rock in opposite directions. When they move the conversation to "What is right," there is a better chance they will begin to push the rock in the same direction – creating progress.
The key to pushing the rock in the right direction is to be curious. The great thing about curiosity is that when we step into it we are no longer in judgment.
Instead of viewing Jill as an obstacle in the way of progress, Keisha can learn about her co-worker's values and viewpoint using questions like these:
What is important to you about continuing the print version of the donor report?
What are you trying to achieve with this report?
It's important to me that we offer an online version. How can we achieve this and your goals?
Whatever your style – Assert, Accommodate or Analyze – the key to a successful conflict is asking open-ended questions and really listening to that person's answers and perspectives. From this place of understanding, you can share your perspectives and desired outcomes. Only then will the two of you be pushing the rock in the same direction.
So next time you find yourself avoiding conflict, I challenge you to engage and use this as an opportunity to deepen your relationships.
Janice Cunning is a Leadership Coach who is passionate about partnering with fundraisers to help them create an inspired vision that transforms lives. She is a Certified Relationship Awareness Facilitator who uses SDI to strengthen team dynamics.