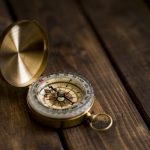 I coach many fundraising professionals who are considering the next step in their career and what they really want is a job that is right for them.  A job that is fulfilling, that aligns with their purpose, that challenges them, and brings out the best in them.
The journey to the right job starts with understanding your unique values, the intangibles that represent your unique essence. Your values are the compass that points you to the place where you can be true to yourself.
Let's imagine that Katia and Julia are both looking for a job as a Director of Development at a University.
Katia values connection, respect, and service.
Julia values innovation, challenge, and impact.
These values will have a tremendous impact on their job search. Let's explore a few ways they can use this self-awareness to find the job that is right for them.
Engaging Environment:
Katia will be seeking an environment that is trusting and respectful. A place where she feels appreciated and has opportunities to help her team grow and develop.
Julia will be drawn to organizations that are innovative, fast-paced, and challenging. She will be most fulfilled in a place with opportunities to advance and achieve goals.
Leadership:
Katia will respond to a leader who connects with her on a personal level and offers her and her team the support they need.
Julia will desire a manager who empowers her to make decisions and allows her to set direction and take risks. She will enjoy being recognized and rewarded for her accomplishments.
Colleagues:
Katia will enjoy working on a team that is friendly and loyal. She will thrive with colleagues who care about each other's feelings and needs.
Julia will enjoy working on a team that sets and goes after ambitious targets. She will want colleagues who recognize her ambition and allow her to provide direction.
As you think about the differences between the right jobs for Katia and Julia, start to envision how your own self-awareness can support you in your career advancement.
How can your values guide you to your best job?
Janice Cunning is a Leadership Coach who is passionate about partnering with fundraisers to help them create an inspired vision that transforms lives.