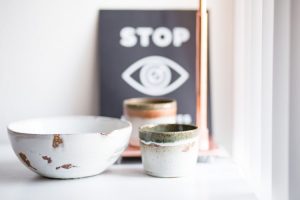 Yesterday I was on a group video call with fellow volunteers from a leadership mentoring program. During our 'check in' the topic of the holidays emerged. It was interesting to witness the different reactions and perspectives. Many were excited and enjoying the magic of the season. Some commented that people can seem more rattled during this time of year.  Others were eager to opt out altogether.

If you celebrate the holidays it can be an eventful time of year. And for many fundraisers the personal tasks coincide with the demands of year-end appeals.
In the midst of all this it can be challenging to step back and consider other alternatives. This is why I believe it is a perfect time to consider how you can create space for the things that are most important and fulfilling. That's right. Don't wait for the New Year and instead make a small step today.
With my coaching clients I love to use a simple exercise where I challenge them to "Cut It or Change It."
I urge you to set aside 10 to 15 minutes and engage in one of these exercises:
Cut it – identify 3 activities, responsibilities, events or roles which take up your time and don't benefit you or create energy.

For example, you might find identify volunteering to plan the staff holiday lunch, sending holiday cards to co-workers, and choosing personal gifts for your team. Now it time for the important (and sometimes difficult) part. Commit to stop doing one of these completely.

Change it – Choose 3 activities or tasks you do out of habit that take your time and are unfulfilling.

For example, you might choose checking social media, attending a bi-weekly cross-team meeting, and editing proposals created by your direct report. For each one, brainstorm ways they can be done differently or by someone else. It can help to have someone else brainstorm with you to provide fresh ways of looking at it. Once you have at least 8-10 different ideas, and then commit to doing one of these in a new way or delegating it to someone else.
Now is time for accountability.  First of all write down what you are committing to cut or change. Then consider if you will need to share with someone else to keep you accountable. Don't hesitate to ask for help.
These exercises are simple and yet they can have a significant impact if you really commit to making them happen.
Janice Cunning is a Leadership Coach who is passionate about partnering with fundraisers to help them create an inspired vision that transforms lives. She is a Certified Relationship Awareness Facilitator who uses SDI to strengthen team dynamics.